How to apply
Here you can find all necessary information regarding your admission to our master's programme.
Please follow the steps below, that will help you to navigate through the admission process. Please note that the Admission Office at the University of Vienna is in charge of all procedural matters, including approval of documents and previous degrees. All applications must be submitted via u:space.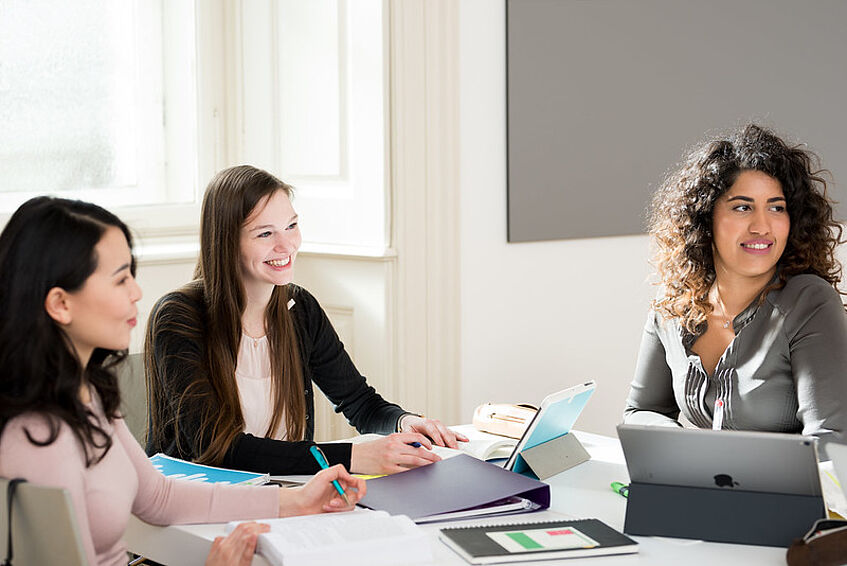 Contacts
The service unit Teaching Affairs and Study Services supports potential students with general questions about degree programmes, admission and tuition fee. It also helps students, lecturers and staff of the University of Vienna in the organisation, administration and implementation of studies and teaching.
The StudiesServiceCentre is the central point of contact for all administrative study matters in the context of computer science studies. Employees are available by phone, by e-mail and personally during opening hours.
1. Enrollment
If you are interested in studying a master's programme at the University of Vienna you first have to register via u:space.
You can find information on how to register on the following website:
Please apply for admission to a Master programme via u:space in due time.
2. Admission requirements
Admission to a master's programme requires the completion of a bachelor's degree (or diploma degree) in the same or a related discipline. In any case, people that earned the following bachelor's degree of the University of Vienna are eligible for the respective master's programme:
Business Informatics
Computer Science
Mathematics
Statistics
If equivalence is basically given and only individual additions to the full equivalence are missing, additional courses and examinations to the extent of a maximum of 30 ECTS points can be prescribed to achieve full equivalence.
In case you have not completed your Bachelor studies at the time of application, please include a formal letter issued by your current institution confirming that you have obtained 150 ECTS and that you will receive your bachelor degree until September 30, 2021.
3. Proof of english proficiency
Applicants are required to prove their proficiency in English on the level B2 of the Common European Framework of Reference for Languages.
A list of certificates that will be accepted, can be found here.
4. Letter of Motivation (Statement of Purpose)
Please fill out the letter of motivation below. It must be answered in english and please mind the characters limitation per question.
Letter of Motivation (Statement of purpose) Data Science
FAQs
Can I catch up with the necessary background?
Can I start in the summer semester instead of the fall semester?
Can I hold a job in parallel to progressing through the programme?
I do not have a computational background but would like to apply for the Data Science Master with my business background. Is it possible to do the necessary background in the first semester?
I am a non-Austrian citizen and I did not study in Austria. Do my documents need legalisation?
I would like to know about applying for this programme, is there any entrance exam?
Do you begin to evaluate applications before the application deadline?
Are there workshops available through the university where admitted students can hone their abilities prior to the beginning of the programme?
Is there a possibility to receive the admission letter before the graduation from the previous university?
I am currently in the last semester of my Bachelor's programme and I will complete by the end of the current semester. May I apply like if I already had a finished degree?
What are the chances to get an internship after graduation or during the study? Do you have figures about graduated students' career path after graduation?
I am interested in PhD opportunities after Master's. Will I be able to pursue research in depth on my specialisation areas upon the topics taught during the Master's programme?
When are admission results published?
Do you accept a Bachelor's degree from a country where English is the official language as proof for English proficiency?
How much is the application fee?
When is the application open for non-Europeans?
Do I have to upload legislation documents with my application before submission or is it possible to deliver them after the application deadline once I receive them from the institution?
I have a Bachelor's degree in Physics. Is it a good foundation?
How is Master's programme Data Science different from the Master's programme in Computer Science with specialisation in Data Science?
Are there any exams or certificates that can improve the chance of being accepted such as high GMAT score?
Can I apply for Business Analytics and Data Science at the same time and if so does it increase my chances to be accepted?
How is the selection procedure carried out?
How many students will be accepted for the programme?
I would like to know if R, Tensorflow and Snowflake are touched on as tools?
Is it necessary to have CS-related Bachelor's degree or can a person with work experience in programming also apply?