Master - Business Analytics
The goal of the Master's degree programme in Business Analytics at the University of Vienna is to familiarize students with the methods and instruments of predictive and prescriptive analytics required for business analyses and decision support. Students choose a more in-depth area of business administration, for which they then conduct data analyses and design, implement and prototype decision support systems.
Students are able to independently solve and interpret business decision problems using extensive data sets and to derive recommendations for action. The field of Business Analytics requires a high degree of analytical thinking from students. Students deepen both the theoretical and practical concepts of statistics, operations research, data science, and the design of information systems, taking into account business, ethical, and legal aspects of handling large amounts of data. In addition, students are prepared for a continuation of their university education within the framework of a PhD study in a subject of economics.
Facts
Duration: 4 semesters

Credits: 120 ECTS points

Degree: Master of Science (MSc)

Availability:

40 university places per academic year

Language of Instruction: English

Degree Programme:

977

Administered by:

SPL 4 (Wirtschaftswissenschaften)
These topics can be expected during your studies including possible focus areas:
Foundations of Business Analytics
Advanced Analytics
Ethics, Legal Issues and Doing Data Science
Data Science Electives
Elective Module Business Administration and Business Analytics Electives (minor)
Elective Modules can be chosen from the areas of Banking and Finance, Marketing and International Marketing, Supply Chain Management, Smart Production, Organisation and Personnel and Electronic Business.
Business Analytics – a short introduction
Details to the curriculum
A detailed structure is listed here.
Graduates of the Master's programme in Business Analytics at the University of Vienna will be qualified to work largely independently in scientific work or as highly qualified specialists in a business management field, to solve problems and tasks independently using methods of predictive and prescriptive analytics and to derive recommendations for action. Our graduates acquire skills in a variety of methods, which enables them to analytically grasp and solve problems in related disciplines.
By working in groups and teams during their studies, our graduates also acquire a range of soft skills. In addition to the professional qualifications, our curriculum conveys teamwork, social and ethical skills and promotes responsibility in dealing with data and information.
The master's degree program in Business Analytics is aimed at students who have already completed a bachelor's or diploma program in the field of economics, business informatics, computer science, statistics, economics or mathematics, who learn the methods of business analytics and apply them in a more in-depth application area of business administration. Students have knowledge of analytics and decision support, statistical methods, operations research and relevant informatics concepts.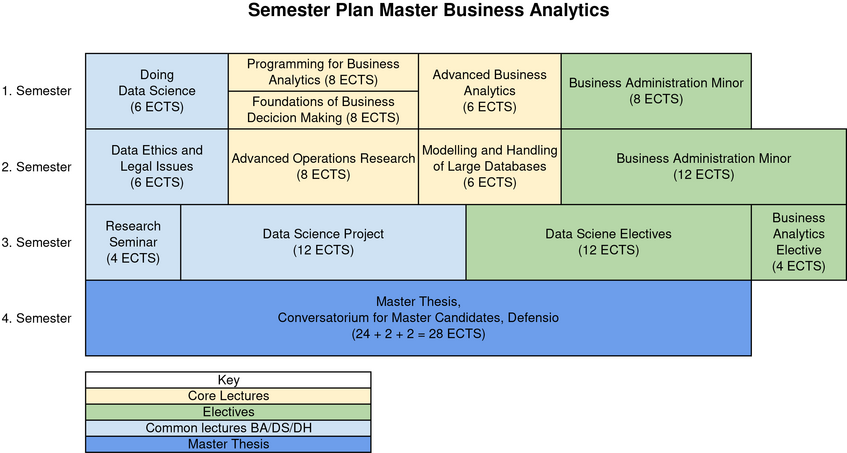 Curriculum
The legally binding version of the curriculum as of 24.01.2020 can be accessed through this pdf download link (German only).
An unauthorized English summary of the curriculum can be accessed here.