Data Science Day 2023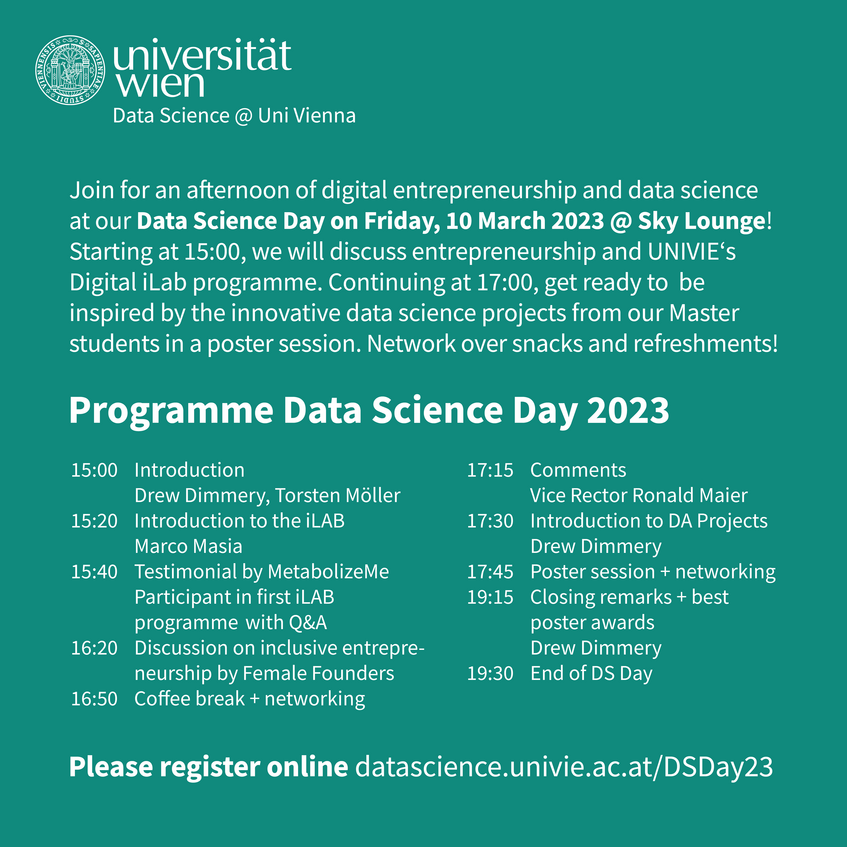 Data Science Day 2023
On 10 March, the Research Network held an exciting event bringing together the data science community: Data Science Day!
We started off the program with a discussion about digital entrepreneurship, introducing the Digital iLAB 2023. We had a vigorous discussion about a fellowship winner from the first round of the program: MetabolizeMe. We rounded out the afternoon with poster presentations of the amazing research being done by students in our Masters programmes.
Talks by Professor Tara Andrews, Marco Masia, Drew Dimmery and Vice-rector Ronald Maier.
The research in the posters were so good that we couldn't pick just one as the best; we awarded three posters the Best Poster Award:
ÖBB Passenger Count: Petra Baliová, Ridhi Veerabhadrappa Shetru, Jonathan Vincent (Advised by Jan Ehmke and Steffen Elting)
Dynamic Information Acquisition in Questionnaires: Alexander Stähle, Melanija Kraljevska (Advised by Sebastian Tschiatschek and Simon Rittel)
Clustering of physiological, behavioral and climactic data of wild boars: Luis Caumel Morales, Sergio Arellano Tinajero, Hannes Janker (Advised by Claudia Plant)
We look forward to seeing everyone for Data Science Day 2024!